Meet & Greet at the Gate with a Hawaiian Lei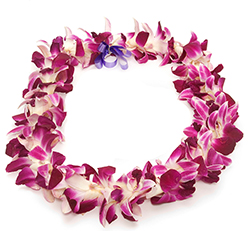 Make your arrival or departure in Hawaii extra special with a traditional
Hawaiian Lei Greeting! One of our lei greeters will meet you just outside
your arrival gate with a welcome sign with your name or group name on
it. You will be presented with a beautiful, fresh Hawaiian Lei. You will also
be offered assistance to baggage claim or directions to your connecting
inter-island flight.

A lei is Hawaii's symbol of Aloha - a symbol of love, friendship, celebration,
honor, or greeting. Always happily accept a lei with a warm smile and kiss
on the cheek!
Want a special flower? Please e-mail me and I will send a quote back to you. Child Car seats are also available. Booster seats are also available. Please call for pricing.
Add on one of these special Services to your Cloud 9 Transportation:
Add a Hawaiian Lei to your transportation reservation: Please call for pricing.
Meet & Greet at the GATE with Lei: Please call for pricing.

Click here to View our Airport Transportation Rates